Professional House Packing Services in Boston, MA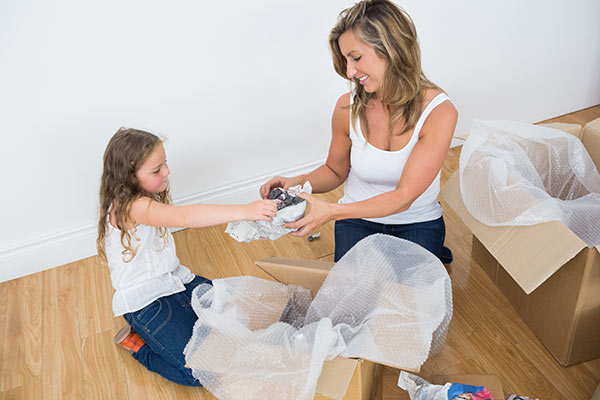 TLC Moving provides packing services, moving boxes and custom crating for local moving and long distance moving in Boston MA.
The packing of a home can be a very daunting task that requires a significant commitment of time and energy.
Our packing service offers trained packers experienced in packing, wrapping, crating, shipping, transport and storage of artwork, fine china, glassware, artifacts, antiques ceramics and museum collections. Packing is one of the most important aspects of moving, but it is often overlooked. All your items need to be well packed and protected to survive the move unscathed.
We provide you with the necessary packing services in order to pack your items carefully and securely. Our experts will provide useful packing tips on how to pack special items, such as antiques, artwork, china, electronics.
Packing Materials Prices
Our qualified packing teams are trained on how to pack all of your valuables correctly – from dishes, glassware and clothing to large marble table tops or fragile pieces like chandeliers.
Weather you decide to do the packing for your move yourself or decide to have TLC Moving and Storage professional pack for you we have all the moving boxes and packing supplies you need to properly pack and protect you belonging during you upcoming move.
TLC Moving and Storage provides prior to any move professional packing services. Upon to your request we can provide packing materials, moving boxes or we can pack in your own boxes.
All packing supplies that you may need can be delivered to your home or office at no additional charge ($50.00 minimum order).
Let us handle the hassle off packing the artwork and the expensive china!
Special Offer: FREE Delivery of boxes for all our customers.
Call now for packing materials in Boston or for packing services done by our professional movers in Boston
617-284-6040
5
Item

Price

Used For

$5.00

Books, records, papers, wine, liquor, tools, heavy cookware. W: 16″ H: 12″ D: 12″

$5.00

Towels, sheets, shoes,
games, small pictures, lamp shades, toys, silverware, purses, cooking
utensils, odds & ends. W: 18″ D: 18″ H: 16″

$7.00

Bulky items . W: 24″ D: 18″ H: 18″

$10.00

Dishes and Cookware, Glasses, Figurines, Knickknacks, Art Works, Sculptures. W: 18″ D: 18″
H: 18″

$10.00

Protecting framed pictures, mirrors, etc. W: 40″
H: 60″

$8.00

For padding, pictures, mirrors before boxing.

$15.00(rent) $25.00(buy)

Includes hanging bar  W: 18″ D: 24″ H: 46″

$15.00

Any size .

$35.00

Protecting breakables

$2/ft

For pictures, artwork and other very fragile items.

$5.00

For all your packing needs and general use. 2″ x 55 yards

$20.00

 

$50.00